Guide to Repping America this 4th of July
The United States of America's birthday is right around the corner. It's time for too many burgers, too much beer, and a dangerous amount of fireworks. The staff here at Brofessional Golfer put together a short list of must-haves for not only 4th of July weekend, but honestly for all times of the year. Any jackass can light off fireworks (unless you're JPP), but it's the true legends, brofessionals if you will, that party hard for America in immaculate style.
Golf Apparel
American Flag Patriotic Men's Polo Shirt (Amazon)
For the golfer who loves America and wants to go "America all over everyone's ass!"
American Flag Embroidery Polo (Amazon)
For the weekend hacker who loves America, but wants to casually rep his home nation with some class.
Loudmouth Stars & Stripes Golf Shorts (Rock Bottom Golf)
Show off the calves and rep America? Sounds like a win-win.
Lotta blue, lotta red, lotta white with a touch of class. Might as well wear these to church while you're at it.
USA Golf Glove Men's Left Hand Medium (Rock Bottom Golf)
Guaranteed to relax the hands throughout the swing. First tee jitters be gone.
Under Armour Heat Gear Performance USA Flag Logo Hat (Amazon)
You get to rep America and have a sweat-wicking hat. I'm sold.
---
Golf Equipment
Bridgestone E6 USA Limited Edition Golf Balls (Golfsmith)
"Does that ball say USA on it? Yeah, that one is mine."
Hot-Z Golf USA Flag Stand Bag (Amazon)
Feels good to know that all your clubs will be nestled in the pockets of America.
USA Boxing Glove Head Cover (Amazon)
Speechless. Shows you bomb your driver and love America all while honoring Muhammad Ali (Brohammed Ali, RIP).
American Flag Umbrella (Worldwide Golf Shops)
Let America keep you dry. Simple.
Special Ops Stand Bag (Worldwide Golf Shops)
Keeping it tactical while repping America. For the troops.
Tourmark Golf USA Putter Grip Oversized (Rock Bottom Golf)
The land of the free and home of the brave will help you drain this birdie putt.
---
General Bro Attire
4th of July American Flag Bro Tank (Amazon)
Because you need a bro tank for 4th of July.
Back to Back World War Champs Bro Tank (Amazon)
Speaks the truth. Perfect for any occasion.
Bill Clinton America T-Shirt (Amazon)
Clinton is a hero and quite persuasive. I'd follow him into battle any day.
Men's American Flag Crew Socks (Golfsmith)
Socks make a man. USA socks make a legend.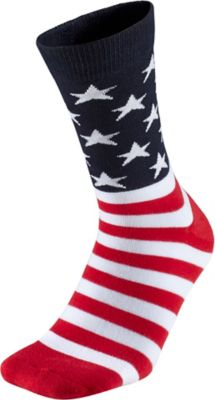 Spy Optic Polarized Sunglasses (Rock Bottom Golf)
No 4th of July connection here, but I highly recommend Spy sunglasses. Affordable and brotacular.
Donald Trump America T-Shirt (Amazon)
Uhh, Donald Trump standing on a battle tank. I'd take him in most fights. Make America Great Again. Make Golf Great Again.
Don't forget to also read: What Your Golf Apparel Says About You